Computer Controlled Cut-Off Machine
Computer Controlled Cut-Off Machine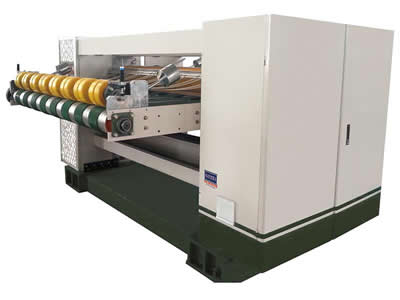 Features
Being able to storage 200 orders, available in accurate and quick change of paper cutting without shutdown of the machine, it can also be connected to the computer to make production management easier.
All the drive gears of cutter shaft are made of high quality alloy steel which undergoes high-frequency quenching, achieving non-backlash drive, also adopt seamless connection, ensuring high precision drive.
Our computer controlled cut-off machine adopts high-speed steel embedded helical structure, features a serrated cutter, just like a scissor, with small shearing force and longer service life.
The front and gear paper feed roller use sun gear structure, ensuring stable paper conveying, uniform pressure and is less likely to crush the paperboard or lead to blocking.
Our cut-off machine features energy storage braking(non-energy consumption type), which can be low-energy consumption, with the average power consumption 1/3 of that of the ordinary NC cutter, energy saving of over 70%, ensuring less cost.
Designed with precision and adjustable seamless gear, ensuring perfect gear engagement and stable and balanced operation.
With oil immersed gear lubrication used to ensure energy conservation, safety, reliability in lubrication and cooling.
Cutter roller is made of high quality precision forging steel, which features stable performance after being given a balanced treatment.
Regular Technical Specification:
Max working breadth:2500mm
Operational direction: Left or right (Depending on specific conditions of the customers)
Max mechanical speed: 120m/min,150m/min
Configuration: Computer-controlled cut-off machine
Minimum cut-off length: 500mm
Max cut-off length: 9999mm
Precision for paper cutting: ±1mm at constant speed, ±2mm At non-constant speed
Machine size: :Lmx4.2*Wmx1.2*Hmx1.4
Gross weight: No less than 3500kg
Roller diameter:
Center to center spacing between upper and lower cutter shaft: φ216mm (Dynamic balancing is made to the cutter shaft)
Front down conveyor roller: φ156mm (Given dynamic balancing)
Rear down conveyor roller: φ156mm (Given dynamic balancing)
Paper pulling roller: φ160mm
Sun gear for paperboard output: φ160mm
Notes: All the rollers have hard chrome coated on their surface after the surface grinding process(except for the upper and lower cutter shaft).
Specification for motor and other electric devices:
Power of main drive motor:12.5KW/22KW ( Full AC synchronization servo)
Power of front and rear paper feeder motor: 3kw (Frequency control)